Ramirez: Venezuela's pro-Iran stance irrevocable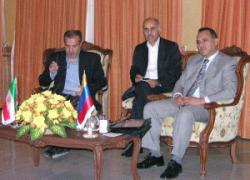 19.03.06 | Venezuelan Ambassador to Tehran Arthura Anibal Galeh Gouss Ramirez said here on Thursday that Venezuela's stance in support for Iran's peaceful nuclear technology is "irrevocable."
"Venezuela is seriously supporting Iranian officials' right stances on nuclear issues," said Ramirez in a meeting with deputy governor general of Ardebil for Planning Affairs.
Ramirez said all countries, including Iran, are entitled to peaceful nuclear technology and Caracas will not bow to the US bullying and excuses in that concern.
The Venezuelan ambassador was on a one-day visit to Ardebil on Thursday to sign a number of protocols and an agreement with the provincial officials to call Ardebil and a similar province in Venezuela as sisters.
Tehran and Caracas on Thursday signed 90 protocols for cooperation, especially in the economic and commercial sectors, with a value of more than seven billion dollars.
Iran's Deputy Industries Minister for the Economic and International Affairs Mohsen Shaterzadeh says such a huge volume of contracts signed with Caracas is "exceptional." Shaterzadeh said Syria follows the list after Venezuela for inking dlrs 1.5 billion worth contracts with Tehran.
send this article to a friend >>