Congress' president: Islamic world will defend Venezuela
By Aleksander Boyd
London 19.04.06 | Nicolas Maduro, president of Venezuelan National Assembly, recently visited Iran. The occasion served to strenghten the ties between that nation and Venezuela, to date the only country in the world to have voted twice in favour of the furtherance of Iran's nuclear development programme.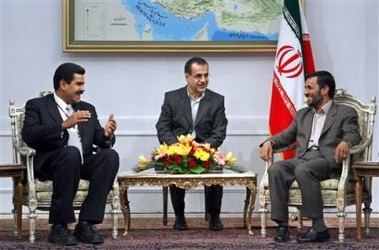 Maduro, on the left, seems delighted in the presence of Ahmadinejad.
Upon arrival from his Middle Eastern tour, where he assisted to the 3rd Solidarity with Palestine Conference, Maduro declared about "the absolute disposition that the Islamic world has to side with Venezuela and to confront any aggression attempted by Imperialism against president Chavez and the country's [Venezuela's] sovereignty" (sic).
According to Maduro then, it is only fitting to assume that crazed Muslim fundamentalists will become part of Venezuela's rescue brigade, which is formed by Cuban, Colombian and assorted stateless criminals.
send this article to a friend >>